Commercial Flooring store bins are overflowing with debris, ReBound ReCycle has implemented a program to help with the environmental concern.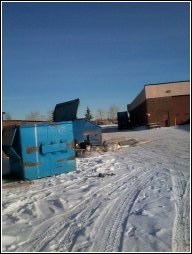 There is enough product on the ground in this location to fill the blue bin back up again!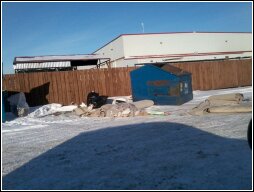 Wooden Bins are now available for keeping the Underlay neater and dryer. They can be built to fit most locations. Standard size is 6'6" by 6' by 7' tall.

Eco bag placement was used at the commercial flooring store level and has helped many Calgary locations effortlessly participate in a retrieval and recycle program for all of the foam underlay products that their installers work with on a daily basis.

Now a Wooden Bin is used in most locations to keep the sight neater and the underlay dry. Recycling saves space in the commercial waste bins, reduces store costs for waste management and the recyclable material is effectively diverted from the overflowing landfills. The eco-bag and Bins are both available.

Here is a picture of an Eco Bag that has been placed in a pad rack for security, stability and easy retrieval. It takes up minimal space and holds an abundance of foam product. And a few pictures of the new Wooden Bins.